Repair, Refinish, Revive Natural Stone both Indoors and Out
Natural Stone & Tile
Natural stone is an excellent choice for flooring due to its longevity and the architectural detail it can provide. When choosing natural stone it is important to know its composition to determine the best type of stone to use for each application. Some stones are softer, more porous or less water resistant, while other stones are excellent for areas that may have more water contact, such as in a bathroom or pool deck application. There are different requirements for cleaning and sealing these stones as well.
 Stone / Tile Surfaces
Travertine

 – A crystallized, partially morphosed limestone formed by natural mineral springs, honeycombed structure with surface pitting. This stone is available natural or filled (with a resin or grout).
Limestone – A "young marble" formed from a consolidation of seashells and sediment. Each stone can be expected to have some surface pitting, fossilized shells, fissures and mineral striations and edge chipping. This stone should be sealed.
Sandstone/Flagstone – Primarily loose grains of quartz sand, rough in texture, hard but porous stone, must be thoroughly sealed when used as flooring.
Granite – The hardest of all flooring stone, very generous grain making it virtually impervious, it is formed from liquid magma, nearly the hardness/durability of a diamond. If polished, the high gloss resists scratching and etching, making it ideal for kitchen floors.
Marble – Metamorphic rock /crystallized limestone, soft enough to work with easily but hard enough to last many lifetimes. Characterized by vein patterns, it is more porous than granite and more susceptible to staining.  Not the best for kitchen floors. Green marble absorbs water and can warp. Black marble "spalls" when wet, meaning small pieces may break apart.
Slate – Fine grained metamorphic rock that splits into sheets easily.  It is composed of clay quartz and shale.  This stone is very versatile and adds rustic appearance with natural clefting along the surface to give a unique and layered look.  Water resistant. Ideal for outdoor and pool surrounds.
Agglomerate/Manufactured Stone – Made from natural stone chips suspended in a binder such as cement, epoxy resins or polyester. Terrazzo is one of the most well known, offering the look of natural stone but are stain and scratch resistant, also offers more consistency of strength and virtually maintenance free.
Finishes
Polished – Creates mirror like shine, using a finer polishing head to bring out crystals within the stone. Depending on the stone, some may require more frequent polishing. Granite, marble, limestone are frequently polished and require varying degrees of maintenance to preserve their shine.
Honed – Flat, matte or satin finish created by stopping before the final state of polishing. Stones will show fewer scratches and require less maintenance. Best choices: Slate, limestone and marble.
Acid Washed – Creates an antique finish. Once it is polished, it is washed in acid - removing most of the shine and revealing the crystalline structure of the stone. Good for hiding scratches. Most stones can be used including marble, limestone and granite.
Saw Cut – Rustic in appearance, the stone is polished to take out the heaviest saw marks, but not enough for a honed finish.
Flamed – The stone is blow torched until crystals within the stone explode, leaving a rough, unrefined texture. This is ideal for showers or wet areas where slipping might be a concern. Granite is the best stone choice.
Split Faced – Hand cutting and chiseling at the quarry exposes the natural cleft of the stone making the texture of the stone rough but not as abrasive as flamed. This is used primarily for slate.
Tumbled – Smooth and slightly pitted surface, broken or rounded edges and corners.  Tiles are usually smaller and often used as a boarder or decorative strip.  Marble, travertine and limestone are best suited for this finish.
Brushed -- Simulates the look of wear over time. Achieved by brushing the stone with hard plastic or metal brushes. The heavy action removes the softer part of the stones to create a worn down or medieval look.
Other features such as Porcelain, Ceramic, Cement, BBQ, Fountains, Waterfalls, Epoxy, Slides, Hardscape, Patio Covers, Fire Features, Refinish, Revive, Water Based Stains, Sandstone, Leathered and Exposed Aggregate.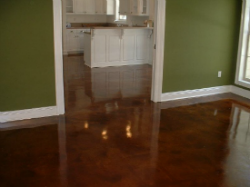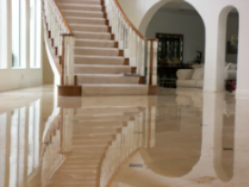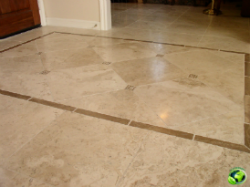 Concrete & Faux Rock
From Customizing to Resurfacing
Concrete is an environmentally friendly and renewable material. It can be restored with professional cleaning, sealing and polish. Rather than ripping out old concrete and pouring a new slab, The Floor Maintenance Company can help and advise you how to repair any damage, fill holes, cracks or chips, smooth out surface blemishes, remove stains, add a new finish and reseal all surfaces and grout. 

Concrete, whether used in an indoor or outdoor application, provides a durable and long lasting surface that is like a blank canvas that can be turned into a myriad of colors and styles to suit your own design preferences. We can create unique flooring by adding rich color staining process and add designs from a variety of stencils or saw cuts. Faux rocks used in outdoor landscape design around pools, waterfalls and ponds tend to get calcium build-up that causes the stones to appear dull and dirty. This can be easily fixed with annual professional cleaning and resealing. With a professional power wash, colors in stonework can be revived and then re-sealed to prolong the fresh look. Faux rocks and concrete can be stained to new colors to give your outdoor area a new look.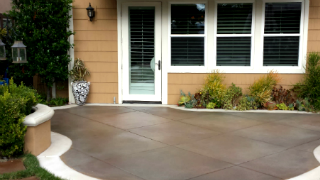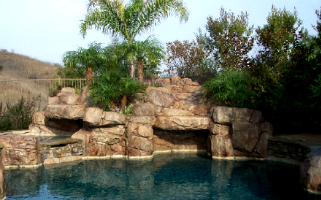 Epoxy & Paver
Residential
Epoxy flooring provides the finishing touches that make your garage flooring as aesthetically pleasing as the rest of your house. Epoxy flooring is a sealed, non-porous surface that is moisture resistant and resilient to stains, spills and tire marks as well as hides minor imperfections of the underlying concrete slab. Water beads and spills wipe up easily while creating an extremely durable and almost maintenance free surface for high traffic areas.
Industrial uses: warehouses, commercial kitchens, laboratories, hospitals, public bathrooms
Pavers
Pavers are a great way to add architectural design to your hardscape. Maintenance is an important part of keeping pavers looking like new. Over time, pavers will fade and stain without proper maintenance. With a deep cleaning and a re-sealing, we have products to remove stains and calcium deposits on the pavers and restore them to a like new condition. Pavers can also be decoratively stained in new colors to take on a more updated look or new color design pattern.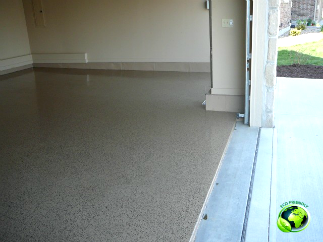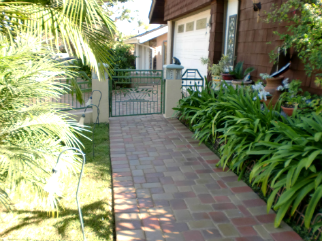 Decorative Staining and Creative Services
Decorative Staining -- applying varying degrees of color dye to stone and concrete flooring both indoor and outdoor hardscape and faux rocks to restore original color or to create a new look.

We sell Smith's Paint Products to offer three different types of staining
Classic -- Semi transparent, natural variation of color, can be used as a high hide stain by using a more concentrated solution.

Old World -- Transparent, drastic variation in colors similar to acid stains.

Bright Light -- High chroma intense colored stains accenting or artistic differentiation.

Concrete Stamping -- Laying new concrete and applying a stamp press to imprint a pattern or texture to the surface.
DiMiceli Construction Services, Inc. | DBA The Floor Maintenance Company | License # 661604