Stain-Proof Daily Floor Cleaner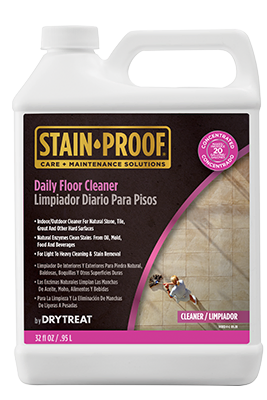 Stain-Proof Daily Floor Cleaner
STAIN-PROOF® Daily Floor Cleaner, formerly known as Rejuvenata Active, is a powerful, natural active enzyme cleaner concentrate for both heavy duty and light duty (regular) cleaning of all natural stones, tile, grout, brick and other hard surfaces. Daily Floor Cleaner contains 3 different enzymes for removing general grime and stains caused by grease / oils, mold, food and beverages.
Typical Applications:
Daily Floor Cleaner is recommended for cleaning indoor surfaces including kitchen floors, bathrooms, eating and entertaining areas. Daily Floor Cleaner can be used for light regular mopping, heavy duty cleaning and removal of stains caused by oil / grease, mold, leaf marks, food and beverages.
Daily Floor Cleaner is suitable for domestic and commercial cleaning of hard surfaces, including:
all natural stone (including acid sensitive, calcite based stones such as marble and limestone) 
porcelain, ceramic and clay tile
vinyl and unfinished wood (with no stain, oil or other coatings).
Benefits:
Daily Floor Cleaner contains 3 different, powerful natural active enzymes (similar to those in your gut) that quickly break down oils, grime, food residue, and stains caused by mold.
only 3 to 4 capfuls in a bucket of water required for regular mopping
Effective for heavy duty cleaning and stain removal (using a higher concentration)
For domestic and commercial cleaning, including in scrubbing machines. 
Application Rate: Light mopping: 4-6 capfuls in 2 gallons (8 L) of water, Heavy duty cleaning: 1/3 bottle in 2 gallons (8 L) of water
Pack Size: 1 Quart (946 mL) container