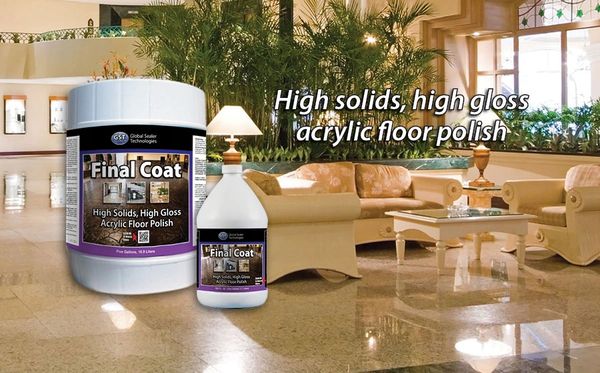 FINAL COAT
Final Coat is a premier high solids acrylic polymer floor polish for gloss and durability.  It represents the first major improvement in concrete floor care technology in years. As a wear coat, its high solids formulation provides maximum scuff and heel mark resistance, for a gloss finish resulting in lower maintenance costs.  Final Coat requires fewer coats than are needed with conventional lower solids products and stays glossy even after numerous scrubs.  It has the advantage for a wide spectrum of maintenance programs, from low speed wet spray buffing and frequent ultra-high-speed burnishing to 'walk-away'  application maintenance programs.  

Uniquely formulated for exceptionally severe high traffic areas where resistance to heel marking, soil retention, and scuffing are of prime importance.  Provides stunning highlights to colored or stamped concrete floors while offering excellent slip resistance.  Recommended for use in malls, hotels, retail stores, hospitals and schools. Final Coat can also be used on most conventional resilient floors ( rubber, asphalt tile, vinyl, linoleum, and all types of composition tile ).
Easily applied, fast drying, long lasting
High solids, high gloss
Long lasting, non-yellowing
Easily applied, fast drying, long lasting
Buffable, wet or dry
Heel mark resistant
Slip and scuff resistant
Reduces maintenance costs
• Meets or exceeds Federal EPA standards for VOC compliance.
• Meets or exceeds South Coast Air Quality Management District and the Bay Area Air Quality Management District, for VOC compliance of less than 100g/l  required by the State of California.