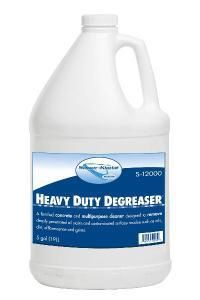 HEAVY DUTY DEGREASER
Super-Krete S-12000 Heavy Duty Degreaser is a fortified multipurpose cleaner formulated to remove deeply penetrated oil, grime, other contaminants and surface residue from concrete.
For interior and exterior use, Heavy Duty Degreaser is a great environmental alternative to muriatic and other acids and is completely biodegradable. Use this product to clean concrete surfaces prior to the use of Pene-Krete to encourage the strongest reaction within concrete pores.
Heavy Duty Degreaser will clean the toughest dirts, soils and greases making it the perfect cleaner for use in automotive shops, kitchens, and industrial facilities for industrial strength cleaning and maintenance.
Ready to use. Do NOT dilute.
COVERAGE RATE:
Approximately 300 sq. ft. per gallon
*Coverage rates will vary, this is an approximation only. Actual coverage will vary depending on substrate conditions, surface porosity, ambient conditions and method of application.