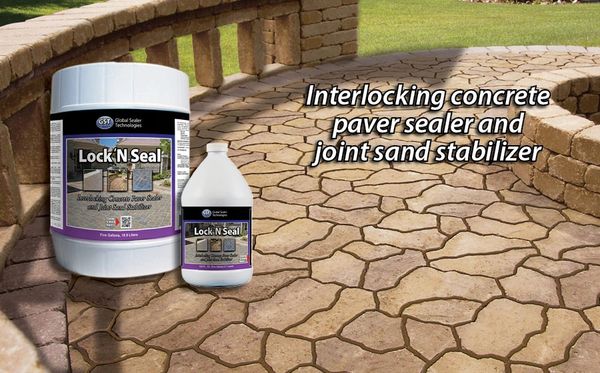 LOCK N' SEAL
Lock 'N Seal is a one-step sealer and joint sand stabilizer. It is formulated from the latest developments in non-hazardous VOC, EPA and OSHA compliant, solvent free, water-based UV resistant acrylic chemistry designed specifically with high product solids to create the ultimate sealer for interlocking paver installations.  It seals and locks down the sand within the paving joints with a flexible bond that reduces weed growth and ant mines.  Lock 'N Seal should NOT be used in conjunction with polymeric sand. Please choose one of our other fine sealers.

Lock 'N Seal gives superior protection against stains and has exceptional water resistance. It will resist most stains up to 24 hours, however, oils and especially solvents should be wiped up soon after spillage has occurred.  Lock 'N Seal enhances, brightens and beautifies the natural beauty and color of the pavers while improving their durability and resistance to fading.  Once the surface has been properly prepped, cleaned and dried (24-48 hours) , Lock 'N Seal can be applied immediately.

When used on surfaces like concrete pavers, Lock 'N Seal penetrates deeply, providing long-term protective  service.  For all unsealed surfaces, it makes a perfect base coat prior to the application of GST Final Coat, buffable floor polish and wear coat. Satin Seal will resist most stains for 24 hours, however, oils and especially solvents should be wiped up soon after spillage has occurred.
Bonds and locks down joint sand
Retards efflorescence
Prevents ant tunneling
Repels oil, grease and rust stains
Inhibits weeds and grass between pavers
Non- yellowing and UV resistant
Easily applied, fast drying and long lasting
Interior and exterior use
Eases maintenance
Re-coatable
25-35% color densification
• Meets or exceeds Federal EPA standards for VOC compliance.
• Meets or exceeds South Coast Air Quality Management District and the Bay Area Air Quality Management District, for VOC compliance of less than 100g/l  required by the State of California.