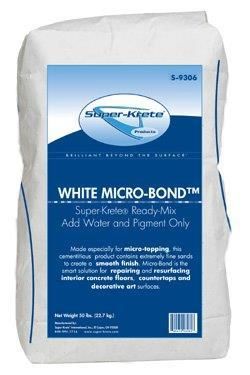 MICRO-BOND
Super-Krete S-9304 and S-9306 Micro-Bond are made especially for micro-topping. This cementitious product contains extremely fine sands to create a smoother finish. Micro-Bond is the smart solution for repairing and resurfacing concrete interior floors, countertops, and decorative art surfaces. Micro-Bond is available in white and gray.
COVERAGE RATE:
700 sq. ft./ per 50 lb. bag
LOCAL ORANGE COUNTY DELIVERY ONLY. NOT AVAILABLE FOR SHIPPING.