NO-SLIP Slip Resistant Additive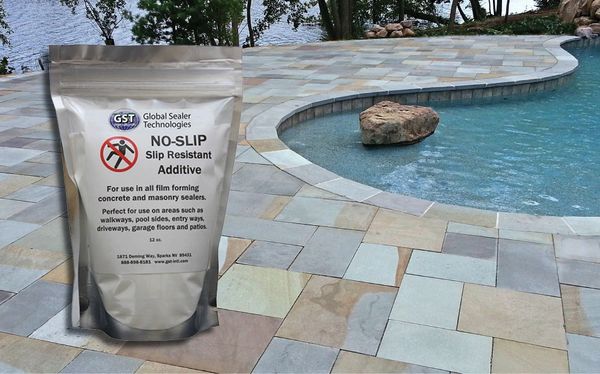 NO-SLIP Slip Resistant Additive
No-Slip is a micronized polymer (finely ground) Slip Resistant Additive that has been designed specifically for use in GST film forming sealers, which include: all Wet Look Lacquers, Lock 'N Seal and Satin Seal. No-Slip provides a comfortable walking surface for bare feet and will not dissolve in solvents, absorb oil or expand in water.
GST's No-Slip

 must be applied using our GST Low Pressure Pump Sprayer.  
To ensure even application of No-Slip, continuous agitation while spraying is required.
Using a brush or roller will cause uneven distribution of No-Slip additive, resulting in slippery areas.
When applying No-Slip to pool coping, use an overspray paint shield to avoid getting sealer in the pool.
Be sure to clean paint shield often to avoid excess sealer/No-Slip contaminating the pool water.
N0-Slip cannot be used with penetrating sealers and must be used with film forming sealers.