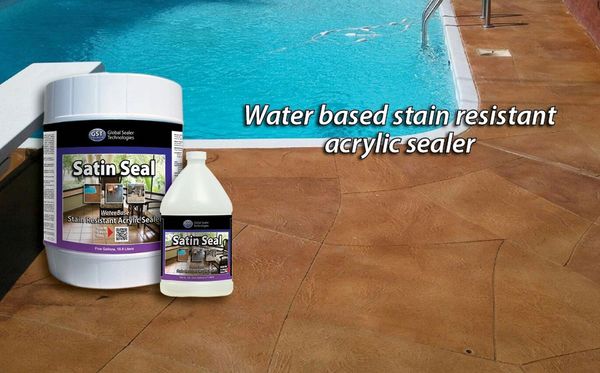 SATIN SEAL
Satin Seal is formulated from current state-of-the-art water-based ultra violet resistant acrylic coatings technology.  Designed as a film forming acrylic sealer, Satin Seal creates a non-yellowing barrier coating that seals and protects  concrete, exposed aggregate, natural stone, slate, stamped and colored concrete against food stains, grease, oils, rust and water, while enhancing the natural colors of the applied surface whether indoors or out.  

When used on surfaces like concrete pavers, Satin Seal penetrates deeply, providing long-term protective  service.  For all unsealed surfaces, it makes a perfect base coat prior to the application of GST Final Coat, buffable floor polish and wear coat. Satin Seal will resist most stains for 24 hours, however, oils and especially solvents should be wiped up soon after spillage has occurred.
Inhibits efflorescence

Water-based solvent free and low odor

Interior and exterior use

Oil and stain resistant

Excellent adhesion

Water repellent

Non yellowing and UV resistant

Easily applied, fast drying and long lasting

Re-coatable

20-25% color densification
• Meets or exceeds Federal EPA standards for VOC compliance.
• Meets or exceeds South Coast Air Quality Management District and the Bay Area Air Quality Management District, for VOC compliance of less than 100g/l  required by the State of California.
Coverage: 
Porous Surface: 100-250 sq.ft./per gal
Dense Concrete: 250-500 sq.ft./per gal