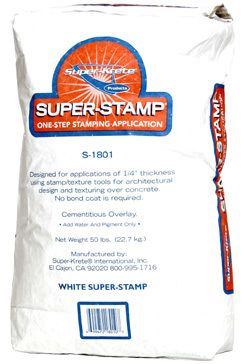 SUPER-STAMP
Super-Krete S-1800 and S-1801 Super-Stamp is a single-component, cementitious product designed to create the look of natural stone, and any other desirable textures over existing concrete. Super-Stamp is a ready-mixed proprietary blend of a specially modified water-resistant, acrylic co-polymer resin mixed with various sized aggregates formulated to maintain a 1/4" thick profile that can be stamped or textured using specially designed tools and templates. Super-Stamp eliminates the need to remove and replace concrete whether new or old while beautifying and increasing curb appeal. Super-Stamp is a revolutionary 1/4" overlay system, because other 1/4" overlay systems require a "wet-on-wet' application. Super-Stamp does not require the use of a bond coat or primer. Super-Krete color Stains can be applied over the finished stamped product to create a natural look that resembles true stone, or a custom colored appearance (refer to Spec S-1801 Single Component 1/4" Stamp Overlay). Super-Stamp is available in White and Gray. For detailed Stamp Overlay application instruction, refer to Super-Krete Specification S-1801. This product is designed to be a part of a system and is not intended to be used alone.
COVERAGE RATE:
25 sq. ft. /50 lb. bag or pail at 1/4" thickness.
Coverage rates will vary, this is an approximation only. Actual coverage will vary due to substrate conditions and surface porosity. It will also depend upon the method of application such as gauge rake or trowel application.
LOCAL ORANGE COUNTY DELIVERY ONLY. NOT AVAILABLE FOR SHIPPING.